We provide automotive and industrial manufacturers with advanced paint finishing, factory ventilation systems and custom metal fabrication systems, services and solutions.
Turnkey design, engineering, manufacturing and installation
Long standing member in Sheet Metal Workers Local 80
Innovative technologies and processes
Guaranteed highest industry standard for safety
No hidden fees for up-charges…ever
Energy Savings
Conservation Solutions
Industrial Lighting, Electricity
Heating & Ovens
Metal Fabrication
Mechanical & Electrical Engineering
Prototypes, Low Volume Production
Welding, Assembly, Finishing
Finishing
Spray & Powder Coating Systems
Pre-Treatment Washers
Environmental Clean Tunnel
Paint Booths & Curing Ovens
Production Control
Ventilation
Factory Ventilation Systems
Mist, Dirt, Fume Collection
Design, Fabrication, Installation
Air House Installation & Maintenance
Technical Services
Dedicated Project Manager
Problem Resolution
Air Audits & Balancing
Energy Audits
Support & Maintenance
Continuous Improvement
Industries Served
HM White is proud to currently service the following industries:
Automotive
Aviation
Foundries
Machinery
Agriculture
Construction
Metalworking
Industry Affiliations
Our memberships include all the leading industry associations:
Institute of Environmental Sciences
AFS Air Quality and Air Reticulation Committees
SMACNA Industrial Duct Design and Industrial Contractors Steering Committees
SME Association of Finishing Processes
ASHRAE and many others
Quality Control
Our experienced personnel, commitment to our customers, A-Rated ISN Contractor in Safety Certification, and well-defined process controls ensure that every piece of equipment engineered, manufactured, and installed is thoroughly quality checked multiple times. Each project, regardless of size, has a dedicated project manager who is accessible to you 24/7 from inception to completion of your job. And when we are the general contractor, we have even more control to keep your job done right, on time and on budget!
We achieve our company policy of Continuous Improvement by empowering our employees to take ownership in the finished product, and to be accountable to each other and the customer. This ensures that every employee has the responsibility to point out any instance where an improvement should be made. At the end of the day, with preparation, tools, and processes in place, it's the people who make the difference in our production controls. And we have the best in the industry!
Specialized Applications
High pressure carrier cleaning systems
Industrial piping process systems
Mist-eliminator duct work
Plastic duct work for high corrosive environments
Fiberglass reinforced plastic (FRP)
Power generation stations
Power plant coal shoots
Water leak test booths
Experience
Engineering solutions and energy savings since 1936
Skilled, experienced, highly committed professional personnel, most of whom have been with us for decades
Exceptional workmanship provided by Local 80
Staff comprised of industry experts, conference lecturers/moderators, nation-wide university instructors
Manufacturing and process plant work throughout the U.S., Canada, and Mexico
Quality
Each project assigned its own dedicated Project Manager, who maintains full control from planning to completion
Well-defined quality control process
Designed to eliminate all safety hazards
Prompt and courteous customer service
100% Made in the U.S.A.
Comprehensive Services
Finishing – Ventilation – Energy – Machining
Advanced technologies
Green Design Solutions guarantee you energy savings
Value Engineering Alternatives for better design, less overall cost, lower energy bills
General contractor capabilities, including all electrical, piping, and structural elements
Our custom systems are found in all industries, all major markets across the country
Business Practices
Weekly meetings and status updates
Private company with flexibility to solve your problems, NOW
State-of-the-Art scheduling & CAD/CAM software
We deliver Exceptional Value
Safety
Your employees' safety is our top priority!
Guaranteed highest industry standard for safety installation
Our History
For over 80 years, HM White has had the vision and technological expertise to set new industry standards in efficiency, accuracy, safety, and performance.
1936: Founded by Harold M. White as a union based oven installer for the Maehler Oven Company of Chicago
1948: Began manufacturing & installing turnkey industrial ovens across various industries
1974: Moved to current 35,000 sq.ft. facility on Burt Road in Detroit; purchased the 20,000 sq. ft. facility for Now Industries (White Environmental), producers of dampers, blast gates & drum louvers, ductwork companion rings, etc.
1983: Acquired Clean Air Technologies, a turnkey fabricator & installer of clean rooms for automotive, electronics, and medical industries
2010: New partnership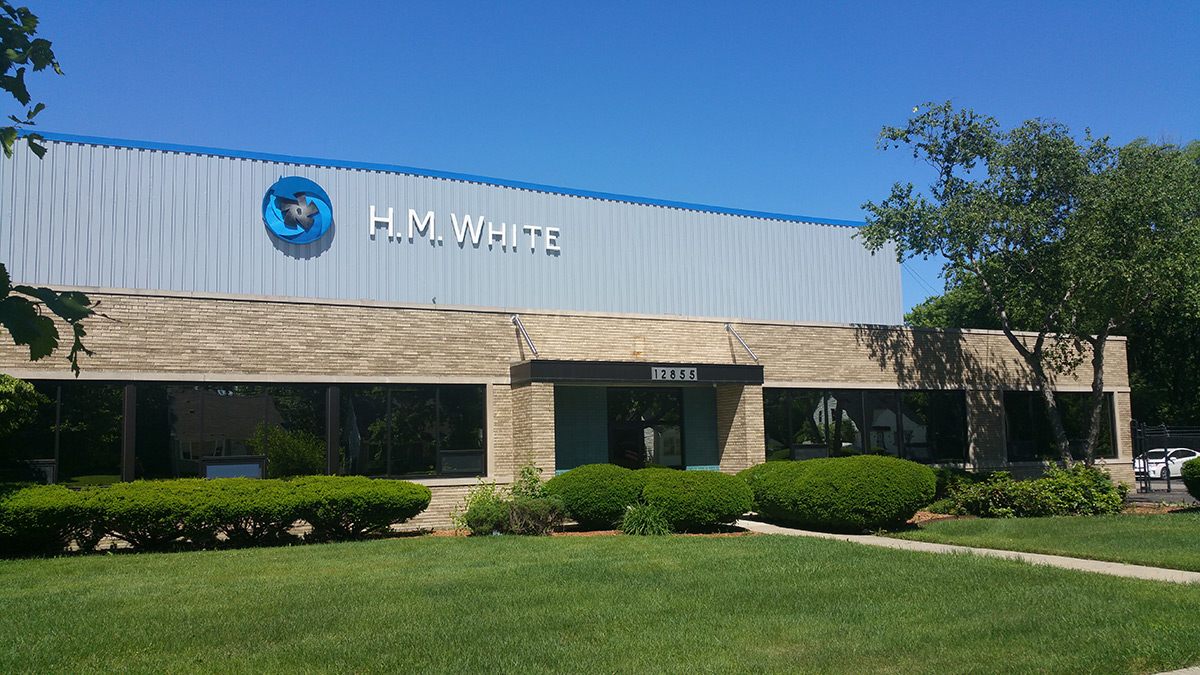 From complete industrial paint finishing systems and metal fabrication, to HVAC / air pollution control and energy saving solutions, our hands-on owner/operators have the experience and customer-focus to manage the next phase of your company's expansion.
Let us partner with you!
Additional Information